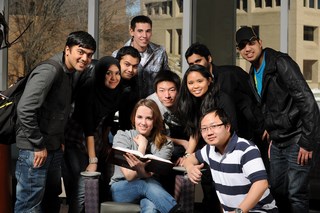 Adjusting to Adulthood
If you are in your late teens or early twenties (or are the parent of a young adult), you know that this can be a challenging time.  There are a lot of decisions to be made – whether and where to go to college, what major to choose or whether to transfer, what kind of job or career will be a good fit, where and with whom to live, what kind of dating experience to seek, whether you are ready to commit to a longterm relationship or marriage or parenting, and many more!  It can be very exciting to begin to craft an adult life.  It can also be overwhelming, particularly if you have had a lot of support in creating structure for your life and activities as an adolescent, and now it's up to you to create more of that structure for yourself.
This is a time of sorting out what is most important to you.  What do you value most?  Who do you see yourself becoming as you step into adulthood?  What kind of a life do you want to live?  Professional psychotherapy can support you in this process of becoming an adult if it seems like more than you can comfortably deal with, or if you are unhappy or anxious about your future.
I developed expertise in working with young adults as a therapist in the Counseling and Psychological Services center at St. Mary's College in Moraga, CA.
I can help you (or your adult child) with:
Leaving home for the first time
Getting used to having roommates
Feelings of loneliness or isolation
Feeling depressed or suicidal
Finding your feet and making friends in a new social environment, such as college
Getting clear on what your values are and how these can help you make decisions about work, school, friends, dating etc.
Dealing with homesickness if you have gone away to college or moved away from your family
Dealing with social anxiety (significant difficulties in daily activities and social life because of high levels of fear about how others may see you or how you may perform)
Anxiety about meeting expectations at school or work
Sexuality and relationships
Difficulties related to eating, such as binge-eating, purging, or skipping meals/restricting your food intake
Drinking or taking drugs at a level that is interfering with work/school, or using alcohol and drugs because you feel unhappy, lonely, or anxious
Balancing the demands of work/school with other parts of your life
Difficulties settling into a job or interacting with customers, co-workers, or managers.
How I help
This may be the first time you have considered psychotherapy.  It may seem as though talking with friends and family should be enough to help you sort things out.  It may feel scary to think about talking to a stranger about vulnerable or private things.  Or you may feel that now you are an adult you should be able to deal with this on your own.  But it can be a first, courageous, and very adult step to take yourself and your problem seriously enough to seek professional help.  The sooner you get beyond what is bothering you, the sooner you can begin to fully enjoy and appreciate all the benefits of your adult life.
I do my very best to provide a safe, nonjudgmental, and compassionate environment for you to talk about your difficulties.  If you are over 18:
You do not need consent from your parents to be in therapy.
Our conversations and your records will be confidential, except for a few legally-mandated exceptions.